For the past couple of years Intel has been on this tick-tock model of CPU releases. Every "tock", which happens once every two years, Intel introduces a brand new CPU architecture, in this case that'd be the 65nm Conroe/Merom based Core 2 Duo CPUs. The "ticks" happen the alternate year (when no "tock" is going on), where performance enhancements are minor but the transistor feature size goes down. Penryn is a "tick", it's a 45nm derivative of the Conroe/Merom architecture.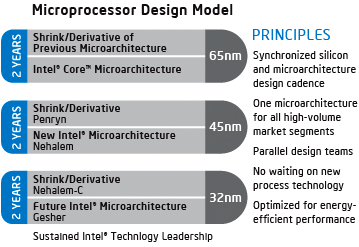 The new MacBook and MacBook Pro can be looked at as "tick" notebooks, as they are both based on Intel's 45nm Penryn core. The CPU product name is still Core 2 Duo, but the core itself is smaller and runs cooler.
Because Penryn is built on a smaller manufacturing process (45nm vs. 65nm), Intel can cram in more transistors into the same space. Penryn is thus left with some architectural enhancements, although most of them fairly minor when it comes to real world performance (the full list can be found here). Penryn does add support for SSE4 instructions, however as we've seen on the PC side it's going to take a while for developers to start using the new instructions and thus it can't be counted as much of a performance-boosting feature today.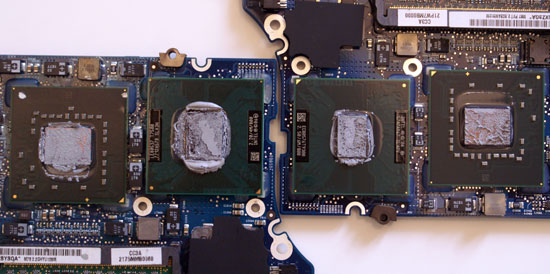 The two chips in the center are 65nm Merom (left) and 45nm Penryn (right) - note how much smaller the Penryn die is.
Penryn power consumption does go down considerably compared to its 65nm predecessor thanks to the 45nm manufacturing process. However the CPU is only a percentage of a notebook's power budget, so it's tough to say what improvement this will have on battery life (although you can guarantee that it will be positive).
As a "tick" in Intel's cadence, Penryn is designed to at first slot into current motherboards. So with minimal effort, Apple was able to use Penryn in its existing Santa Rosa designs (Santa Rosa refers to the notebook "platform", mainly the CPU/chipset combination).
The next tock won't happen until the end of this year with Nehalem, also a 45nm chip but with many new features and markedly higher performance. Nehalem will require a brand new board design and thus you can expect to see larger changes in Apple's Nehalem based MacBook/MacBook Pro updates.